Interview by Ryan Smith
Photos by Bill Whitmire


Swanson has tackled the herculean obstacle courses of the NBC game show
American Ninja Warrior
for three consecutive seasons. This fall, the 26-year-old became the course manager of the new Junior Ninja Warriors Chicago gym in Albany Park. He also regularly posts videos of his stunts online, which drew the attention of GoPro. A 2014 ad for the camera maker Swanson starred in shows him leaping from a rooftop near the Armitage Brown Line stop to a neighboring roof and landing on a spiral staircase. The clip has been viewed nearly eight million times on YouTube.
It's like I was born without the ability to be afraid of heights. Maybe it's genetics? I don't know. Before I could even walk, I was climbing on everything. My mom had to put a doggie door on top of my crib because when she'd leave the room, I'd climb out and drop from three feet. When I was like six or seven years old, I started jumping off the roof of my parents' two-story house in the south suburbs. I'd climb out of my bedroom window and jump off the ten-foot-tall section. Finally, my dad caught me. He was eating breakfast and saw a flash through the window. He sees me rolling around in the grass and goes, "What are you doing?" I say, "I was jumping off the roof." He tells me I can't do that, but I'm just a kid and I don't know what's supposed to be acceptable. Eventually he made a deal with me: "You can jump off the roof as much as you want, but you gotta come get me first."
It's funny because I got highlighted in the alumni magazine for Eastern Illinois University a couple of years ago, but when I was going to school there I almost got kicked out for rappelling off the eighth floor of an upper-class dorm. I got caught on the security feed from an elevator, and they told me they were going to put me on disciplinary probation for breaking the code of conduct. Why? For throwing things out the window. They said technically I was throwing my body out the window. I'm like, "C'mon, seriously?"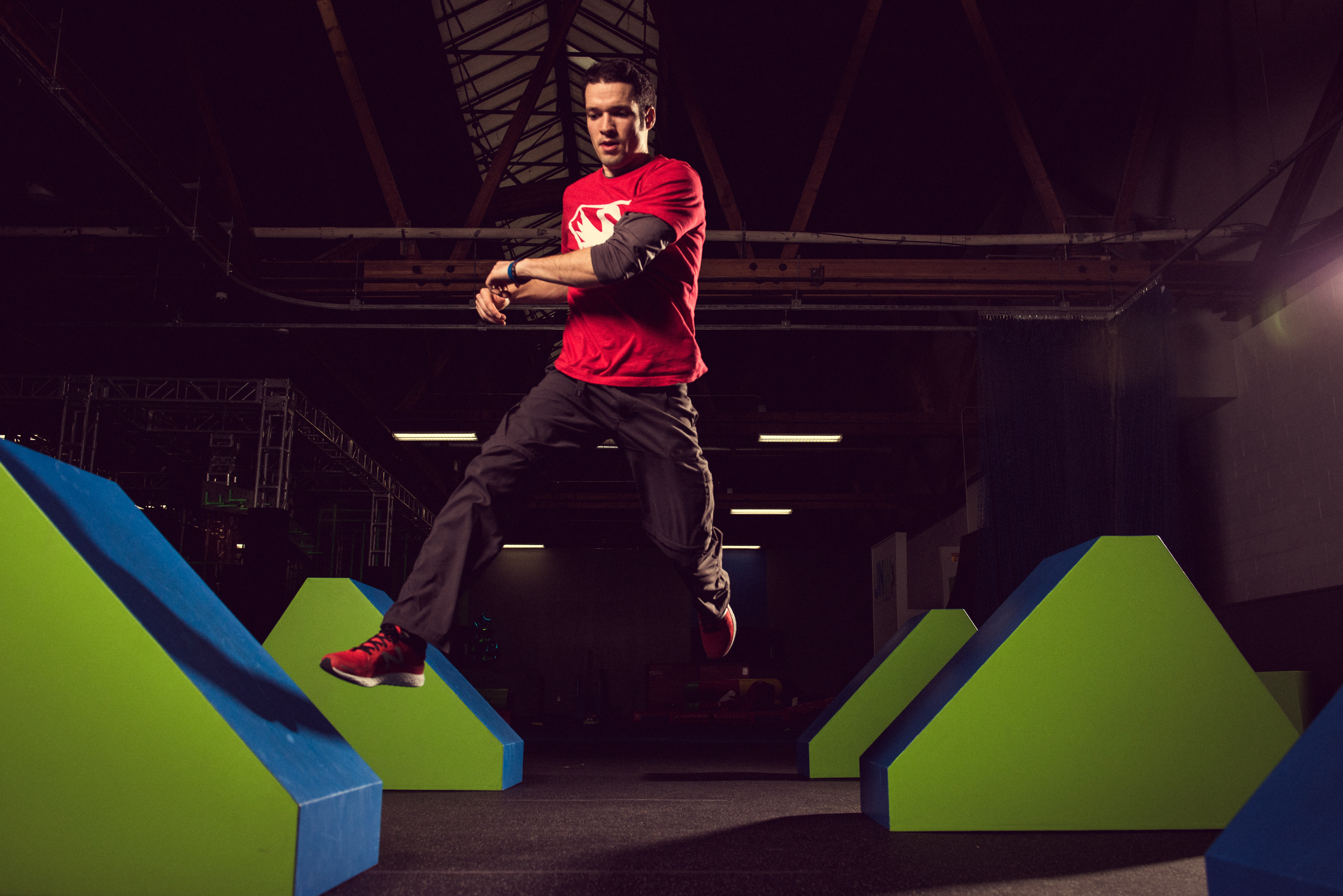 I like being in Chicago because whenever I'm walking around I'm always looking up, trying to find the next spot for a stunt. Every now and then I'll pull my phone out and put a marker down as a mental note to come back to see if I can feasibly do a jump or a stunt off the top of some scaffolding or a building. I don't want to get arrested, so I try to ask permission or won't go in if there are signs that say no trespassing. But there are a lot of places that don't have signs, so I'll go in and mess around. Once there was this large crane near the triple intersection of Halsted, Grace, and Broadway, and a friend and I climbed up to the top, 20 stories off the ground, and I hung from his arm by one hand. I loved it, but the next day he says "it was kind of messed up" from his perspective because if he'd opened his hand, he just killed somebody.
For the GoPro commercial, I found a place right next to the Armitage Brown Line stop—a gutted building with nobody around. So I jumped off a four-story building, over the peak of an adjacent A-frame roof, hit the opposite side, slid another story, then landed on a spiral staircase next door and walked down to the ground. I'd worn two pads on my arms and legs, but in between the pads my skin was a bit cheese-grated from sliding down the shingles. That was my craziest stunt ever because it involved so many different factors: foot placement, jumping, and timing. For the slide off the roof, I had to be in the perfect position to hit the stairwell right. It's the kind of thing that's impossible to practice in a controlled environment, so ultimately, you just have to train yourself to react quickly to whatever the situation is.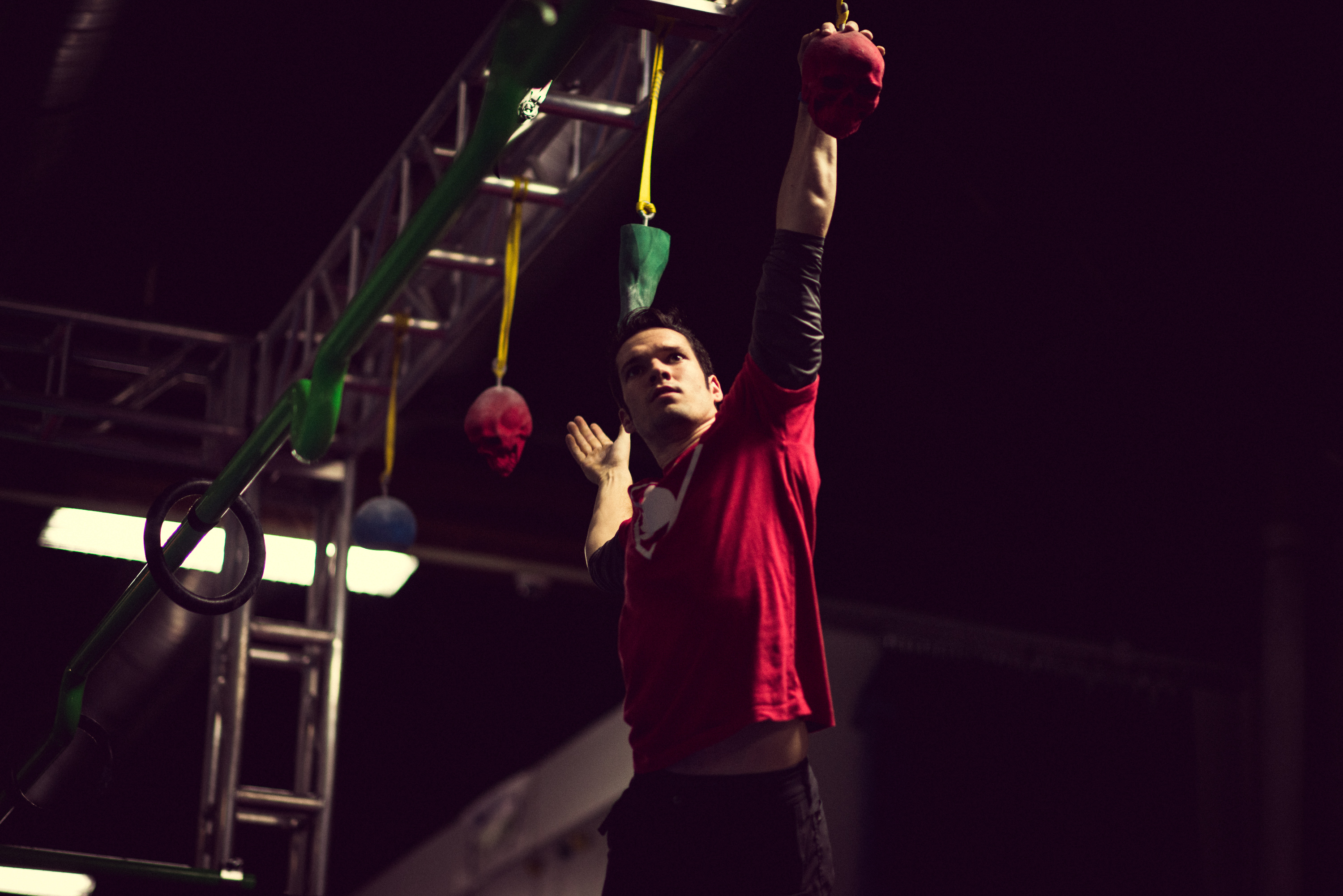 My main activity right now is American Ninja Warrior, which I've competed on for the last three years. This most recent year I did really well and was one of only 17 to make it to the second stage during the Vegas finals. There are four stages in the show, and if you beat all of them in the fastest time, you get a million dollars. So far, in eight seasons, only two guys have ever beaten all four. So it's very, very difficult. Am I capable of doing it? I don't know. I think I'm still getting to my physical peak. I'm currently training with ninja warriors who've been on the show, and they've said I'm getting stronger. It's a jack-of-all-trades sport. Part of what makes it difficult is that it's one and done, which means if you fall off an obstacle you're out. So you have to be good at everything and really need to be prepared for anything they throw at you. The show is very secretive about what's going to be in the course, so you don't know what you're going to be up against until the last minute. So you better be able to figure things out quickly.
I studied mathematics in college and worked as an actuary for three and a half years, and most recently as a health-care consultant. But a few months ago, I got in touch with the people at the Junior Ninja Warriors gym and got an offer to work as a course manager. I thought about it, and decided I'd be upset with myself if I didn't try it. I spend more hours working here than any job ever—but it's because I want to. Not every kid we work with wants to be the next ninja warrior, but every kid wants to have fun.
I'd love to be a movie stuntman. My number one idol as a kid was Jackie Chan, but I don't have any fight choreography experience and have never worked on a set before. The term is "ninja warrior," but combat isn't part of it. When I first told people about Ninja Warrior, they're like, "Oh what, you're going to fight people?" Nope, I'd get my butt whupped.
In the meantime, I'm a dunker for the Chicago Bulls. You get out there during halftime or a third-quarter stoppage and jump off mini trampolines and do choreographed dunking. For instance, Benny the Bull may throw it to you and you've got to grab it with one hand behind your back and dunk it. It's so much fun. Regardless if the Bulls are playing well, people are watching idiots like me jump off trampolines and dunk a ball and they get very pumped. Especially if you get a couple dunks in a row, people are lit up and excited. I'm not a superstar like D-Wade, so when you're out there with packed stands cheering you on, it's an amazing feeling.
It's very important to tell the kids I train at the gym that everything I do takes a lot of preparation and work on my body. When I'm doing my stunts, I spend most of my time calculating and figuring out angles and testing out landing and takeoff points. It's very mental as well as physical. I try to look at every obstacle as a puzzle and my body as the piece that I have to fit in the right way to reach the solution. It's a very useful philosophy that transfers into every piece of my life.  v